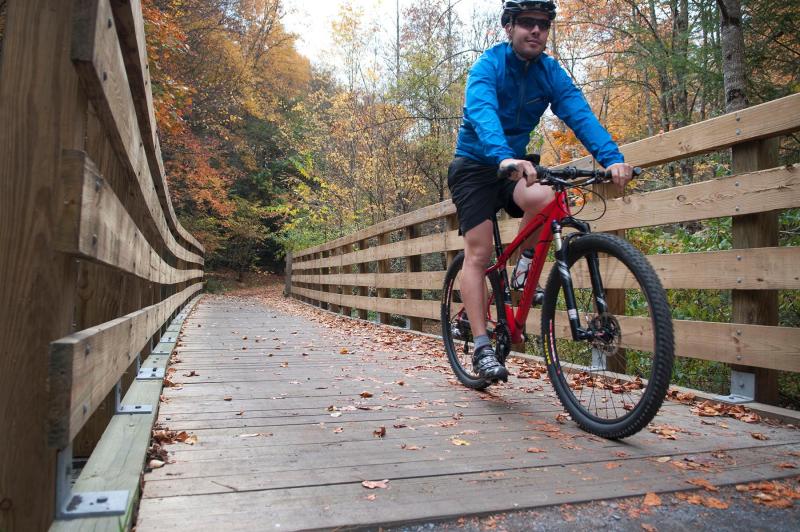 Virginia Creeper Trail Guide
The Virginia Creeper Trail is a 34 mile multiple-use trail rail trail in Southwest Virginia (SWVA). The trail runs from The Abingdon through Damascus to Whitetop, Va, near the North Carolina state line -through National Forest and crosses numerous trestles.
Damascus is the most popular point to enter the Virginia Creeper Trail. Ample parking and amenities are available throughout this lovely small town. Most folks desire to ride the downhill section of the Va Creeper. Damascus is where you want to pick up a shuttle that will take you to the highest point on the trail. From there, you will gently ride 17 mile downhill section back to Damascus.
In Damascus, "the Friendliest Town on the Trail", the Creeper crosses over the many national and regional trails that pass through this little town. The Virginia Creeper Trail, Appalachian Trail, 76 TransAm Bicycle Route, Crooked Road, Round the Mountain, Iron Mountain Trail, and the Daniel Boone Heritage Trail all cross at the same intersection.
The Trail that began as a Native American footpath and later, the European pioneers, as well as early explorer Daniel Boone, used the trail that traversed through the beautiful area. It got its nickname, Virginia Creeper, from the early steam locomotives that struggled slowly up the railroad's steep grades.
Bicycle rental and shuttle services are available for a fun filled family adventure.
[visitswva_featured type="attractions"]