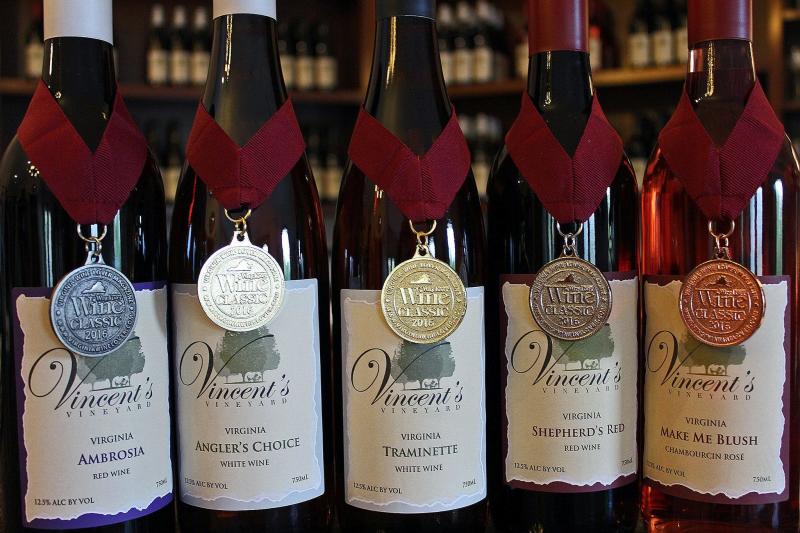 Vincent's Vineyard Shop
Vincent's Vineyard is owned and operated by Vincent and Betsy Gilmer. Vincent, Betsy and their three sons moved to the 6 generation family farm in 1992, then known as Melody Acres. Vincent's father, Franklin, named the farm Melody Acres because of the family's love of music and hospitality. Today, the family continues the tradition of music gatherings every chance they have while grooming their latest generations, how to continue the family tradition.
Once a tobacco farm with a small herd of cattle, the Gilmer's worked with local vintners to grow and sell grapes locally. A 3.5 acre vineyard was planted on the Gilmer farm and named Vincent's Vineyard in 2001. The grapes grown are Cabernet Franc, Traminette, Chardonel, Chambourcin, Steuben and Concord. Until 2008, the grapes were sold to local wineries when they built their manufacturing building and had their first crush. While aging wine, the tasting room was added and opened for business in 2009. Vincent's Vineyard is proud to offer exquisite wines grown, produced, and bottled on location. They produce seven delightful wines. They also offer for sale a variety of apparel and gifts.
M-T, Th-S 11:30am-5pm. Closed Wed. and Sun.