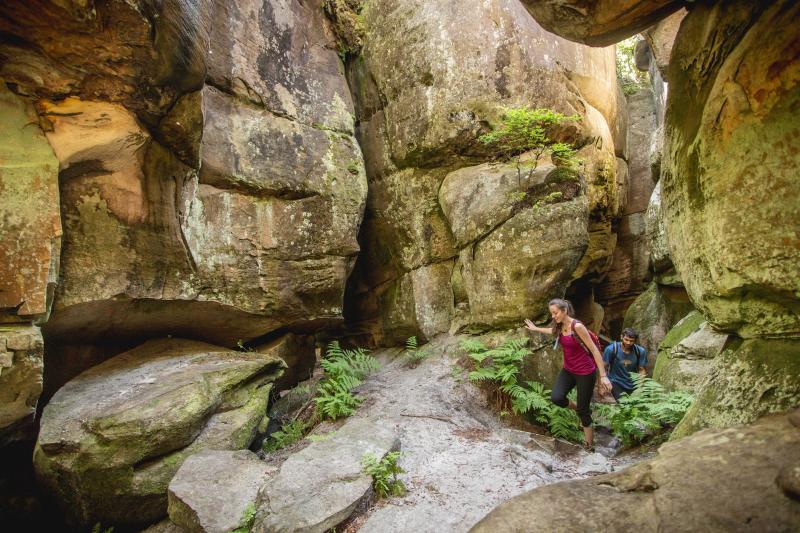 The Channels Natural Area Preserve
The Channels Natural Area Preserve, located within the Channels State Forest, is managed by the Department of Forestry in partnership with the Department of Conservation and Recreation.
The preserve name is derived from the maze-like system of sandstone crevices and boulders that occur near the summit of Middle Knob on Clinch Mountain. The Channels were likely formed while the high-elevation sandstone cap was under the influence of permafrost and ice wedging during the last ice age. These forces shattered and enlarged joints in the sandstone caprock.
A diversity of forest types from cove hardwoods to northern hardwoods are present as well as rare and imperiled plant species.
Know Before You Go – This preserve has no restrooms, trash cans, access to drinking water, or on-site staff. Plan your trip around bathroom breaks, practice "leave no trace" by packing out trash, bring plenty of water and a cell phone for emergencies.
Preserve parking lots are small. A full parking lot indicates the preserve has reached capacity. Be sure to have alternate plans in case the parking area is full. It holds only 10 vehicles. If it's full when you arrive, come back later. Do not park illegally or in any other non-designated location. Parking along Rt. 80 is not permitted.
[visitswva_featured type="attractions"]