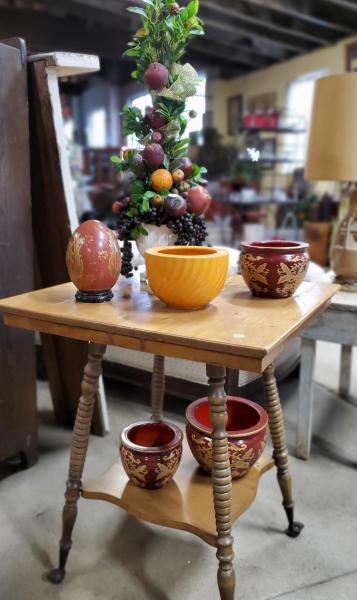 Kat's Hidden Treasures
Kat's Hidden Treasures located in Ferrum, Virginia brings in a steady stream of new and exciting items! When you visit our store your curiosities can run wild. When arriving at our store, you will find 11 different rooms filled with a variaty of: tools, books, apparel, movies, home decor, antiques, jewelry, holiday decorations, glassware, sports equipment, pet supplies, furniture, appliances and more!
Kat's Hidden Treasures supports its local community by continually bringing a variety of collectables and vintage items. Our items amass from around Franklin county, while containing interesting stories on their journey to our destination.
Built in 1929, our building shares a nostalgic sense of Ferrum village history. We actively participate in the revitalization of the Ferrum area, while preserving its past. When visiting our wonderful county, map out your journey with the Quilt Square Trail. You will find us as one of your destination points.
Open Friday, Saturday, and Sunday from 8:00 pm to 4:00pm
Like us on Facebook at Kat's Hidden Treasures
for more information contact Katrina at (540) 420-4149 or Stephanie (540) 493 – 6815
Amenities:
Pet Friendly
LGBT
Public Bathroom
Handicap accessible
Parking