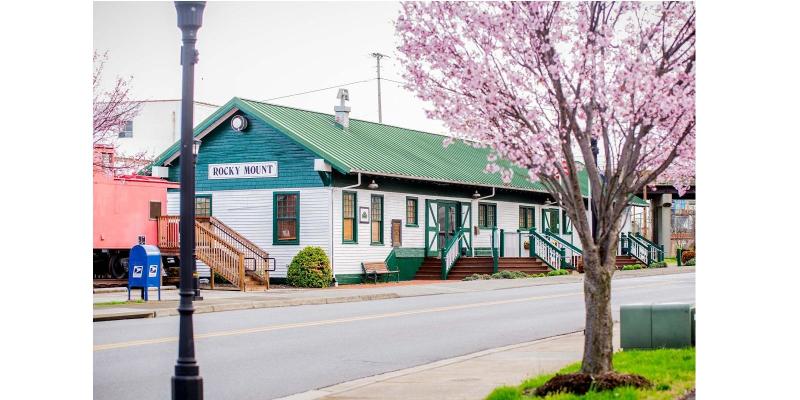 Historic Rocky Mount Train Depot
The former Norfolk & Western (N&W) Freight Station, now known as the Rocky Mount Train Depot, is a rare surviving railroad station with historical significance for its role in the development of Rocky Mount as an agricultural and manufacturing center. Built in 1907 by N&W, this elongated one-story rectangular wood frame building (a typical example of standard-issue corporate design) served as part of N&W's Winston Salem District as a combination station handling both freight shipments and passenger service.
The Depot has been rehabilitated for use as the Community and Hospitality Center and serves as a historic reminder of the glory days of train travel in Rocky Mount. The interior features display cases showcasing tools and related antiques, the original rollover scales used to weigh cargo, original safe that held passenger tickets, original exposed wood trusses, plank flooring stretching the entire length of the building, and sliding freight doors. On display adjacent to the building is a restored 41'9″ long, Class C31P, 1970 N&W Caboose.
The Norfolk & Western Freight Station is listed in the Virginia Landmark Register, and National Register of Historic Places as part of the Rocky Mount Historic District (157-5002).
Hours: 11:00 – 5:00 pm Wednesday – Saturday