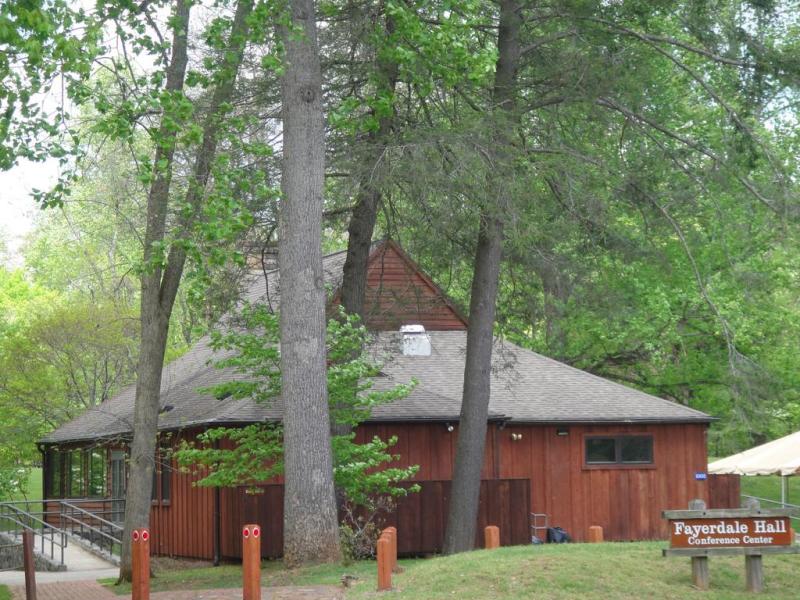 Fayerdale Hall at Fairy Stone State Park
Fayerdale Hall is a great multi-purpose facility ideally suited for meetings, reunions and weddings.
It accommodates up to 130.  The facility seats about 100 for a sit-down meal.
Kitchen: electric range, refrigerator, ice machine, microwave. No cookware, utensils, serving containers, flatware, dishes or paper products are available. Electricity is 110V.
The serving of alcoholic beverages requires an ABC banquet license. For details, contact the local ABC office or visit www.abc.virginia.gov. The public use of alcoholic beverages outside of Fayerdale Hall is prohibited.
Fayerdale Hall guests are exempt from parking fees.
The building has WiFi.
Tables and chairs are available for indoor use only (no charge).  There are 19 six-foot rectangular tables, five 48-inch round tables and 130 chairs.
Pets are not permitted in the facility.
Fairy Stone State Park also has a family lodge that sleeps up to 16 and is just right for informal meetings and executive retreats.
The 4,537-acre park was originally built by the Civilian Conservation Corps. The park's original lake and many structures are still in use. The park is home to its namesake "fairy stones." These rare mineral crosses and the park's scenic beauty, rich history, overnight accommodations and ample recreational opportunities make it a local and regional favorite.
[visitswva_featured type="attractions"]