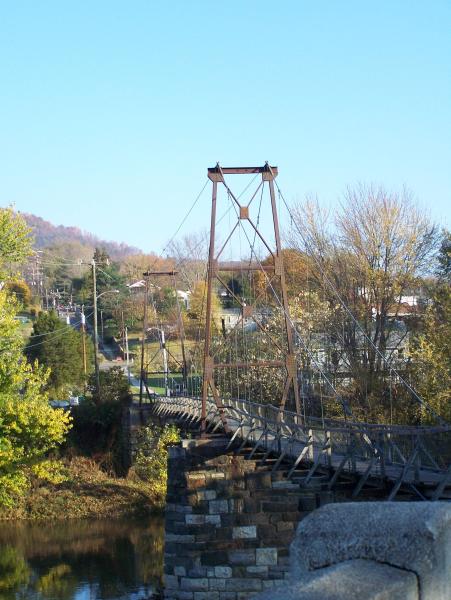 Buchanan Swinging Bridge
The Buchanan Swinging Bridge is 366 feet long, 57.5 feet tall, the only one of its type to cross the James River. Owned by VDOT, the Swinging Bridge is a Historic Landmark.
Portions of the large stone piers were constructed in 1851 for the Buchanan Turnpike Company's Toll Bridge. Toll for every person was five cents with an additional five cents for each horse, mule or oxen and five cents for each wagon.
On June 13, 1864 the covered bridge was burned by Confederate General McCausland in an effort to prevent Federal troops from crossing the James River on their way to Lynchburg. The bridge was rebuilt but washed away in a flood of 1877. At this time, the R&A Railroad Company rebuilt a toll free covered bridge. In 1897 this wood covered bridge was replaced with a steel bridge that remained in use until 1938.
In July of 1937 construction of the current concrete James River Bridge was started with an agreement to maintain pedestrian access by way of the Swinging Bridge. On July 4, 1938, the bridge was dedicated and has been an important pedestrian access and a beautiful vantage point to enjoy views of the James River and surrounding Blue Ridge and Alleghany Mountains.