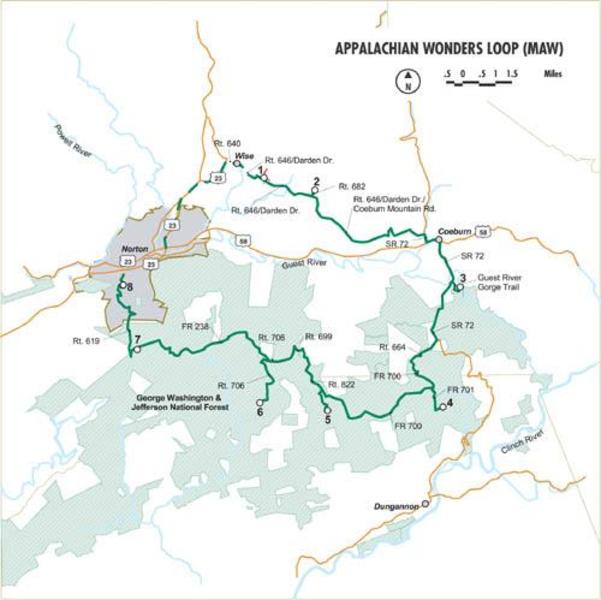 Appalachian Wonders Loop
If you're visiting Wise County and want to venture through the beautiful Jefferson National Forest, then the Appalachian Wonders Loop is a great place to start. Located within the Cumberland Plateau, this trail is home to 24 species of breeding warblers, 4 species of thrushes, a diverse selection of flora, salamanders, insects, and mammals, including foxes and black bears. This loop will also lead you to discover our rich cultural history and outdoor recreation.
There are seven stops along the Appalachian Wonders Loop. Each location is unique and offers an abundance of wildlife observation opportunities.
• MAW01: UVA College at Wise 36.973233, -82.559026
• MAW02: Wise Reservoir 36.964990, -82.532210
• MAW03: Guest River Gorge Trail 36.923240, -82.451440
• MAW04: Little Stony National Recreation Trail 36.8695, -82.4636
• MAW05: Bark Camp Lake 36.86773,-82.52344
• MAW06: Glady Fork Wetland 36.87051,-82.56043
• MAW07: High Knob Recreation Area 36.89363,-82.62842
• MAW08: Legion Park Trail 36.922560, -82.636210
Visit the cities surrounding the loop on your journey to enjoy some of the local cuisine that the Heart of Appalachia region has to offer such as The El Dorado Grill in Wise, MiFinca or Woodbooger Grill in Norton. And if you're looking for a place to stay, The Inn at Wise is an excellent choice.