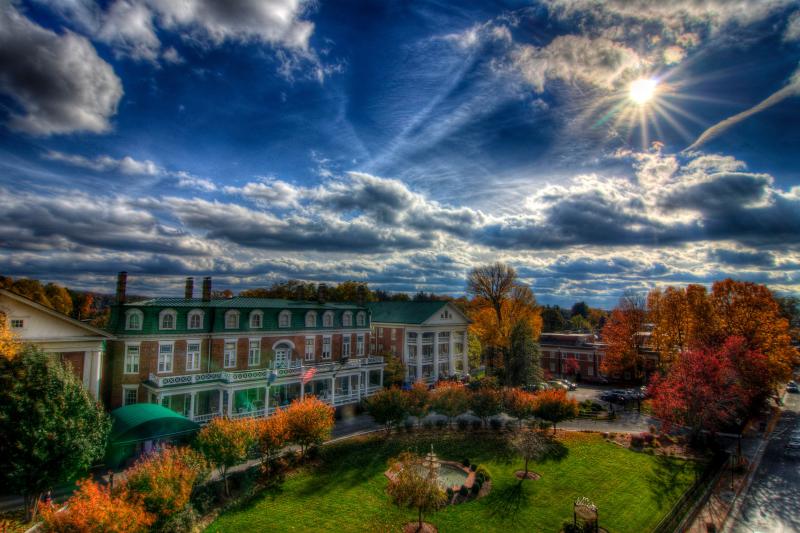 A Romantic Weekend Getaway in Abingdon, VA
As the home of Barter Theatre, as well as a vibrant arts, craft and culinary scene, Abingdon is an artsy haven in the midst of Virginia's Blue Ridge Mountains.
Plan a romantic weekend filled with luxurious accommodations and historic charm.
Friday-Check in to The Martha Washington Inn & Spa, a 4-star historic inn on Main Street. The Martha was built in 1832 as a private residence, before becoming an upscale college for ladies, a Civil War Hospital, and then hotel. As you explore Abingdon, leave plenty of time to enjoy The Martha, whether it's relaxing with a cocktail on the front porch, reading in the library, or playing a round of tennis.
After settling in, explore historic Main Street. As you stroll the beautiful brick sidewalks downtown, you'll find plenty of unique shopping and gifts. Make sure to visit the Arts Depot, a collection of artist studios located in an old railroad depot.
For dinner, walk to The Tavern, an upscale restaurant located in the oldest building in town (dating to 1779).
Saturday morning, head to the Abingdon Farmers Market for breakfast. Here you'll find not just local and organic vegetables and meats, but coffee, pastries, jams and jellies, local wines and Appalachian crafts.
Bike through incredible scenery on the Virginia Creeper Trail, a former railroad line, now a recreation trail. Rent a bike and take a shuttle to the highest point, then coast gently downhill for 17 miles through the Jefferson National Forest.
After your ride, unwind at The Martha with a massage at the luxurious day-spa, followed by a soak in the romantic outdoor hot tub.
That evening, take in a play at the historic Barter Theatre. Whether you choose a play at the historic Main Stage or the intimate space across the street, you'll find Broadway-quality performances and a friendly atmosphere. Barter Theatre was founded in 1933 during the Great Depression, when actors literally bartered an evening's entertainment for food from local farmers.
Before the show, head over to dine at 128 Pecan, for fresh, simple fare with a southern twist, like seared salmon over cheese grits. Afterwards, round out your night with coffee and a decadent cheesecake or crème brulee at Anthony's Desserts.
Sunday-Plan a leisurely brunch at Heartwood: Southwest Virginia's Artisan Gateway. The restaurant specializes in farm to table cuisine, while the galleries contain some of the region's best artisan crafts, heritage music and wine.